RightSize Newton is a grass-roots, non-profit 501(c)4 civic organization. We are your neighbors advocating for the thoughtful, holistic review of proposed developments so they benefit our existing neighborhoods and residents.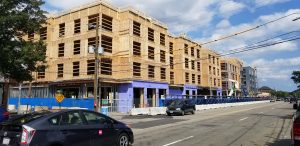 Friends of RightSize Newton,
We congratulate Tarik Lucas and John Oliver on their election to the City Council.  They both won convincingly by over 1,000 votes.  We are proud that we endorsed them and even prouder that so many RSN volunteers helped out by hosting yard signs, contributing funds to the campaigns, holding Zoom meetings, leafleting neighborhoods, and persuading friends to vote for Tarik and John.  This was truly a team effort.
There are now two more voices on the City Council who will try to strike a better balance between development and neighborhood preservation; between open space and housing density.
However, this battle is not over. In fact it is just beginning.  We must do more to inform our fellow citizens about the radical zoning proposals that some members of the City Council still advocate. And we must prepare for the next municipal election just eight months away.
All the best,
Randy Block, President
RightSize Newton
Local Groups

Looking for a group local to your neighborhood? Here are a few:
Neighbors for a Better Newtonville
RightSize Needham Street
Lower Falls Improvement Association