News! The Northland project Referendum will be March 3.
We are actively campaigning for a NO vote.
RightSize Newton is a grass-roots, non-profit 501(c)4 civic organization. We are your neighbors advocating for the thoughtful, holistic review of proposed developments so they benefit our existing neighborhoods and residents.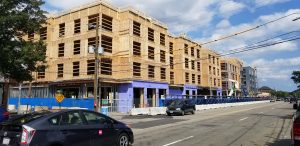 About Northland and the Referendum
The Northland Project
Newton's city council, on December 2, approved a massive new real estate project along Needham Street. The land is owned by the Northland company, hence it's known as the "Northland Project."
Located along Needham Street, one of our most congested major arteries.
A massive project – 22 acres, bigger than the Burlington mall.
800 rental apartment units – almost 6 times more than "Washington Place" now under construction in Newtonville. A population density 10+ times greater than Newton as a whole.
Sixteen buildings, four of them eight stories tall. 1.4 million square feet of space.
Large amounts of retail and commercial space.
The Referendum
There is huge dispute about whether the current project plan is appropriate. A referendum on March 3 will allow all voters across Newton to determine whether the current plan will prevail or whether it must be revised to make it more compatible with the needs of residents.
A "NO" vote would overrule the City Council and cancel the zoning change.
A "YES" vote would approve the City Council's decision and the project would go forward.
Vote NO on the referendum.
What's At Stake
Our city council has approved an enormous development plan despite vocal neighborhood opposition. Other major development proposals are sure to follow in other locations.
Northland and its benefits are being oversold. Many councilors, and others, too easily accept the claims of developers that they, the developers, will help us achieve our common goals. Those claims are sometimes true, sometimes not; it's the council that must make the judgement. We can push the council be tougher in the face of developers' enticements.
Vote NO in order to create a better Northland project, and better city-wide development in the future.
Local Groups

Looking for a group local to your neighborhood? Here are a few:
Neighbors for a Better Newtonville
RightSize Needham Street
Lower Falls Improvement Association