RightSize Newton is a grass-roots, non-profit 501(c)4 civic organization. We are your neighbors advocating for the thoughtful, holistic review of proposed developments so they benefit our existing neighborhoods and residents.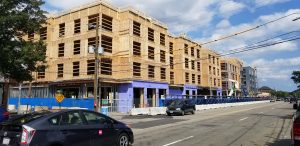 Friends of RightSize Newton,
Thank you so much for your support for RightSize Newton. Because of you and neighbors like you, we have been able to work with community groups across Newton and support their efforts to influence development proposals that will have a major impact on their neighborhoods.

Here is some of what is going on around the city.
ZONING REDESIGN
The city council's Zoning and Planning Committee (ZAP) is working on proposals to rezone the entire city.  One idea that appears to have strong support in the committee is to increase housing density in Newton by ELIMINATING SINGLE-FAMILY zones.  This could have an enormous impact on Newton.
City Councilor Emily Norton had a lot to say about the rezoning proposals in her September newsletter including the following:
If you are feeling confused about what is being proposed, you are not alone; Councilor Lisle Baker stated in his Sept. 9, 2020 memo, "This the most complex legislative matter I can recall since I began serving on the City Council in 1980, including the last zoning redesign in 1988." Among several useful comments, he urges the Planning Department to not undertake a massive rewrite of our zoning code at a time when residents are distracted by Covid, but rather to focus on smaller and less controversial changes, such as lowering barriers to new housing in or near village centers.
The Sept. 11, memo from Councilor Alicia Bowman lists many questions I am also thinking about, such as the fairness of expanding by-right multi-unit zoning only to certain areas of the city, and whether we should allow accessory apartments by right in detached units such as garages and carriage houses.
The Sept. 10, memo from Councilor Pam Wright expresses strong concern that the new zoning code may result in the opposite of our goals: "I believe version 3 as written will just bring in more luxury housing with an accelerant rate of tear downs AND, for some smaller lots, even larger homes than that can be built today." She also includes an exhaustive list of concerns in a helpful chart format.
Zoning is a complicated subject that can be easily frustrating.  Pam Wright has prepared an orientation to the zoning redesign process–password is %7*hsQ%9.
City Councilor Marc Laredo's August newsletter on this topic is also very helpful and full of information.
Recent ZAP hearings can be viewed on NEW-TV or on the ZAP web site.
DUNSTAN EAST
West Newton neighbors of the Dunstan East development where the Barn shoe store is currently located filed a lawsuit in August against Newton's Zoning Board of Appeals (ZBA) and the developer, Mark Development.  The complaint argues that the height and density of the plan approved by the ZBA are arbitrary and capricious because they violate the Washington Street Vision Plan and are contrary to the character of the immediate neighborhood.  It also argues that this project has more commercial space than is allowed in a 40B project.
The Dunstan East neighbors are in favor of developing this property especially if it includes subsidized housing.  What upsets them is the scale and density of the development – 79 residential units per acre compared to 49 and 45 per acre at Mark Development's other projects at Washington Place and Riverside; five and six story buildings with no dedicated park or playground space for the 234 families who will live there.
We are indebted to the West Newton residents who are spending their own funds so that Dunstan East might become a development we can all be proud of. One that creates a significant amount of new housing, including affordable housing, but minimizes the harm it does to the surrounding neighborhood.  We hope that Mark Development and the Dunstan East neighbors reach a compromise so that a development can proceed.
Public documents on the Dunstan East proposal can be found here.
RIVERSIDE
The development company, Mark Development, first presented a public proposal in April, 2018 to develop the land at Riverside Station and the adjacent Hotel Indigo. After many meetings and compromises between the Lower Falls Improvement Association/Riverside Committee and the developer, the development is expected to consist of a total of 1.025 million square feet: 582 rental units at 655,000 square feet; a 10-story office building at 254,000 square feet; retail space at 39,000 square feet; and a 150 room hotel at 77,000 square feet.  The scale was reduced from 1.5 million square feet in response to concerns raised by residents of the adjacent neighborhoods of Newton Lower Falls and Auburndale.
The City Council met on October 19, 2020 and voted 24-0 to approve the proposed Riverside plan.  The project is expected to take 10 years to build.
Information and documents related to Riverside can be found at the LFIA web site  and on the city's web site.
Please stay safe.Randy Block
President
RightSize Newton
Local Groups

Looking for a group local to your neighborhood? Here are a few:
Neighbors for a Better Newtonville
RightSize Needham Street
Lower Falls Improvement Association