News! Referendum process has begun. See latest news for more information.
RightSize Newton is a grass-roots, non-profit 501(c)4 civic organization. We are your neighbors advocating for the thoughtful, holistic review of proposed developments so they benefit our existing neighborhoods and residents.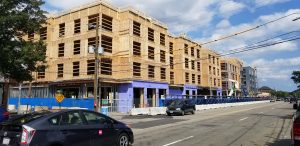 How many?
Developers plan to add thousands of new apartments in outsized developments in the near future. Currently, the numbers are
Washington Street – 500 units and potentially 1200+
Riverside – 500 to 600 units
Needham Street ("Northland") – 800 units
A total of at least 1,900 units and potentially over 2,600 new unit means more residents, more traffic, more pressure on our schools, services and infrastructure. Growth can be good, but only when it addresses the issues that it creates.  This is too much too quickly.
Local Groups

Looking for a group local to your neighborhood? Here are a few:
Neighbors for a Better Newtonville
RightSize Needham Street
Lower Falls Improvement Association
Support and Contribute

Newton is a wonderful and welcoming city. We don't want it to become just another affluent urban landscape. Unfortunately no one is looking at the cumulative effect on Newton of all this development.  No doubt other plans are being made that have not been made public yet.
You can help!
To help us in other ways, or to find out more, contact us!
Endorsements
There is an Election for all Council seats on November 5. If we can change the outlook of enough councilors, we will be in a position to moderate new development.
Click here for our current endorsements.
Right Now
If the council approves any of the new mega-developments without substantial moderation, we will petition for a city-wide REFERENDUM to nullify their approval. Councilors are already taking note. Here's a video of our first canvasser training. https://archive.org/details/referendumtrainingpcres Fifty of your neighbors have already signed up.
Please join us.