Our most recent webinar:
What makes a village center inviting?
Speaker: Newton Architect, Marc Hershman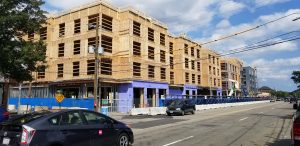 Friends of RightSize Newton,
Development is something we often ignore until it affects our own neighborhood – and then it is often too late. Zoning is a topic so boring, just saying the word makes me close my eyes.
However, development and zoning have the potential to reshape Newton. To combat the complexity of these issues, we are excited to share with you that RSN has launched a public information campaign on Facebook and Twitter!
RSN advocates for a careful, holistic, review of proposed developments and zoning changes so that they benefit not only developers and their investors, but also existing Newton neighborhoods and residents. Your voice matters.
Stay informed by following us on social media using the icons below and checking out our website. If you missed our recent content, check it out below.
Your input on issues affecting our city is valuable. We are eager to hear from you on social media or by email at RightSizeNewton@gmail.com.
Together, as a community, we can shape the future of our city.
All the best,
Randall Block, President,
RightSize Newton