RightSize Newton is a grass-roots, non-profit 501(c)4 civic organization. We are your neighbors advocating for the thoughtful, holistic review of proposed developments so they benefit our existing neighborhoods and residents.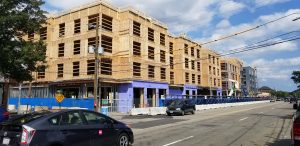 Friends of RightSize Newton,
Thank you all so much for supporting the effort we made opposing the over-sized development proposed by Northland.  We thought the vote would be closer — we lost 18,565 to 13,440 — but there are some silver linings.  One simply is the 13,440 people who joined us and saw through Northland's PR machine.  That is a sizable foundation to build on.
Second, the two precincts most affected by the development, Upper Falls and a portion of Newton Highlands  — 5-1 and 8-3 — voted overwhelmingly against the plan by 58% to 42%.  This should tell anyone how strongly the people most affected feel about this.  We hope that the Upper Falls Area Council and the Newton Highlands Area Council will take note and act accordingly. In fact all elected officials should be concerned that Newton not be divided in this way.  If two neighborhoods in Newton feel marginalized, that is two neighborhoods too many.
Third, we won ward 8 by a 53% to 47% margin.  If the ward 8 elected representatives on the City Council do not represent their constituent's views, there could be an opening for new people to run for office in 2021 representing ward 8.
You should be able to tell from these comments that we are just at the beginning of our efforts. Of course I am disappointed by the outcome, but as I said many times, this is a marathon, not sprint.
We will continue to stay in touch about what happens with the Northland plan and about Newton politics generally.
On a very practical note, we want to collect the metal stakes holding yard signs.  Those can be saved for the next election.  The signs themselves can be recycled in your green recycle container.  If you want to drop the sign and stakes off, you can do so at the three locations listed below.  As we see the signs around town, we will remove them and recycle them.
Thank you again so much for all your efforts.  This is just the beginning.
Randy Block
Sign and Stake drop-off locations:
Bill Roesner's porch at 1058 Walnut St.
Martina Jackson's porch at 115 Lowell Ave.
Randy Block's driveway at 45 Lafayette Road
Local Groups

Looking for a group local to your neighborhood? Here are a few:
Neighbors for a Better Newtonville
RightSize Needham Street
Lower Falls Improvement Association